Sissy's Web Page
Tabby / Domestic Short Hair : : Female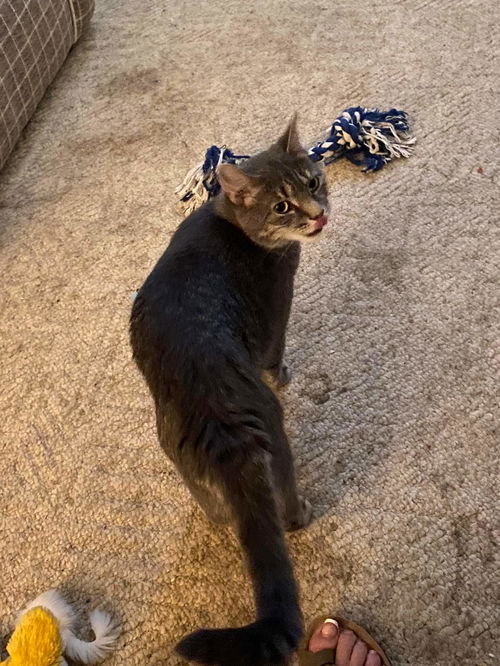 Won't you think about adopting me?
Print an adoption flyer for Sissy!
Sissy and Smokey are in Desperate need of a Foster Home ASAP, their Human Mom has Passed Away
About Sissy

Status: Available for Adoption (adoption info)
Species: Cat
General Color: Gray and White
Color: Tabby

Declawed: No
Housetrained: Yes
Sissy is in Immediate Need of a Foster Home ASAP!!
Sissy is a 3-year-old Gray and White Tabby, Spade.
She is a bonded pair with Smoky.
Their Human Mom has Passed Away and they are looking for an Immediate Foster or Foster to Adopt Situation.

Sissy loves to Climb and She is Good with Smoky and also Good with Dogs.
It is Very Important that we try to keep these two Bonded Pairs Together. It's Very Important that they find an Immediate Foster. If you can find it in Your Heart to open up your phone to these two babies it would be Greatly Appreciated!
If you see this post Please Share with your Family and Friends hoping that this problem can be rectified with the two of them Remaining Together. So please check out Both Smoky and Sissy's Profiles



More about Sissy
Good with Dogs
,
Good with Cats
If you are interested in meeting any of our babies, please contact us or complete an online application at https://kykittycats.rescuegroups.org/forms/form?formid=6024
We are a super small, no kill rescue that is operating at triple our capacity. Our numbers have increased exponentially since Covid. Unlike most shelters, we remained open and hit record intake numbers after the epidemic hit. We have taken in dozens of very sick felines that had no other option, and have even helped over 60 canines in 2021. 2022 has not been any better. It just continues to get worse with the cost of living increasing like it has. Our rescue has also provided record number spay/neuters in the past year and a half. Just this month in September, we facilitated in over 140 spay and neuter surgeries.
We operate solely on donations, and we are always looking for wonderful families to join our efforts. We have dozens of kitties not posted and dozens more on our waiting list. No matter what type of setting you have, if you are looking to save a feline, we can find one for you to help.
Please visit and like our social media... https://www.facebook.com/kykitties
and https://instagram.com/kentuckykittycats?igshid=11qfoexi4imaf
and now we are on TIKTOK!